Dr. Stember is terrific. She was my dog's "Western" vet and now that she is focusing on traditional Chinese medicine for non-humans, we still go to her because she is brilliant and has an amazing manner with my dog. I love treating my dog's problems with Traditional Chinese Medicine (acupuncture, herbs, foods, massage) rather than invasive Western medicine (eg drugs) whenever possible and Dr. Stembler is able to tell me when my dog needs Western medicine and when my dog lis likely to improve through TCM. He loves going to see her and is totally at ease with her even when she sticks acupuncture needles in him. She is very dedicated and caring and wise. She is the best healthcare professional for non-humans that I have ever worked with. I wish she still offered Western vet care, then I could go to see her for everything!
-Michael (Aviv's dad)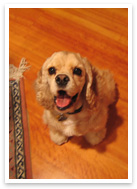 Our cocker spaniel Bing was diagnosed with osteoarthritis when he became lame almost overnight and began to persistently hobble on three legs. We went to see Dr. Stembler to try acupuncture and have been very pleased with the results. Today, Bing is running around on all four and seems to have made a full recovery. Dr. Stembler had a wonderful approach with Bing in our regular acupuncture sessions and was great about explaining what she was doing. She took a holistic approach, consulting with us on diet and supplements, helping us to determine the best overall approach to improving Bing's condition. We had a wonderful experience and found her to be a caring and highly knowledgeable.
-Audrey (Bing's mom)

I was initially skeptical about the ability of veterinary acupuncture to address behavioral issues like fear and anxiety. Dr. Stembler's treatment of our miniature schnauzer Trixie yielded relatively quick results and led to long-lasting behavioral changes. It was great to find an effective approach that didn't rely on medication.
-Matt (Trixie's dad)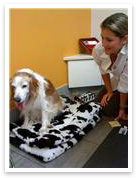 Dr. Stembler treated my elderly, arthritic dog with acupuncture for some time in her elder years. It made such a difference to Greta. Dr. Stembler paid 100% attention to Greta, she got down on the floor with her, talked to her, and was focused solely on the care of her. Her manner and skills are outstanding. Dr. Stembler is incredibly kind, thoughtful, and so intelligent in dealing with and making choices in her care with Greta. Greta actually enjoyed going to the vet when she was with Dr. Stembler! I highly recommend her services.
-Sally (Greta's mom)
My senior toy poodle had developed severe separation anxiety from a recent move that was soon after exacerbated by a mauling. Dr. Stembler prescribed a holistic approach that worked in conjunction with western treatments to help my dog on her way to recovery. Thanks to Dr. Stembler's holistic approach, using a combination of acupuncture, herb therapy and diet changes, Teaki was soon her old self. I had a wonderful experience working with Dr. Stembler and highly recommend her services and approach
- Jillian (Teaki's mom)
Our dog Lama had long term stomach issues and bloody stool. We had been to many doctors (holistic and conventional); and never achieved satisfactory results. Dr. Stembler's use of integrative medicine - combining medications with acupuncture and diet therapy was like magic!
-Lauren (Lama's mom)